Tanomenon Surva is a soup thickened with paskitan, a drained, fat-free, salty yogurt. Herbs are added for flavor.
Ingredient (for 4-5 people)
1 cup durum wheat (korkoto)
2 cups paskitan (fat-free, drained, salty yogurt)
3 tablespoons cows butter
1 onion
salt
1.5 litres water

Method

Place the water, the durum wheat and the salt in a pot and bring to the boil. Before removing from the flame, take a tablespoon of the broth. Let the soup cool slightly. In a deep pan, stir the paskitan into the broth that we took aside until it forms a smooth paste, not too thick. Pour the paskitan mix into the soup and stir well. Then, in a frying pan, melt the butter and as soon as it emits a scent, mix in the onions and immediately pour it into the soup. Mix well and serve.
This recipe and many other Pontic recipes can be found in the following cookbook...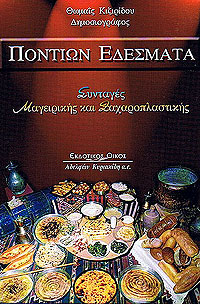 ΠΟΝΤΙΩΝ ΕΔΕΣΜΑΤΑ
ΘΩΜΑΗ ΚΙΖΙΡΙΔΟΥ
ΑΔΕΛΦΩΝ ΚΥΡΙΑΚΙΔΗ
Click here to purchase it