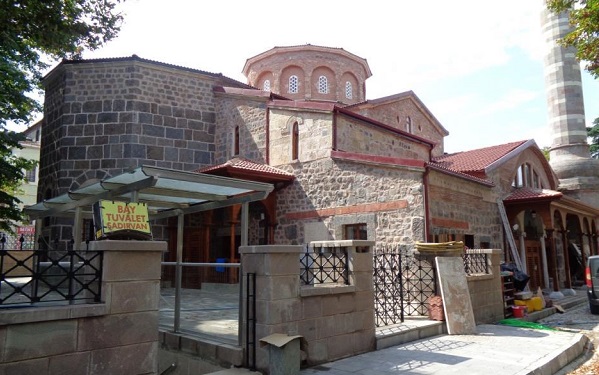 The former Panayia Chrysokephalos church—now Fatih mosque, 2018
By Sam Topalidis.
This former church stands in the middle of the old classical town between the Byzantine walls currently the Ortahisar district and was the most important church in the so-called Empire of Trebizond. Originally it was surrounded by monastic buildings and possibly the episcopal palace, later replaced by shops and booths which were cleared away by the occupying Russian army in World War I. Panayia Chrysokephalos was the metropolitan church of the Komnenos rulers of the Empire of Trebizond, where coronations took place and burials. It was the church of one of the richest monasteries of the empire. It has undergone a number of structural alterations. Its epithet, 'Golden-Headed' is probably derived from a golden icon of the Theotokos (Mary, mother of Jesus) in the church. A proposed dating scheme for the Chrysokephalos includes:
- a 10th, 11th and 12th century church
- an imperial basilica, barrel vaulted, single apse and narthex probably built between 1214 and 1235
- a major reconstruction involving the raising of the vault and the insertion of crossing and dome built between 1340 and 1351
- enlargement of the imperial private box (where the emperor attended services), addition of porches and of the southern apse after the 1340s (Bryer and Winfield 1985).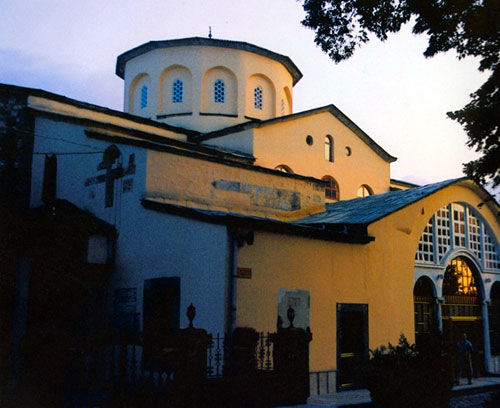 Former Panayia Chrysokephalos church—now Fatih mosque (Kokkas 2005, p. 130)
In 1461 it became the principal mosque of Trabzon (Lowry 2009).
The most recent renovations of the Fatih mosque commenced in 2015 but by September 2018 they were not completed. Part of the renovations involved removing the external paint and cleaning the stone work. Its renovated exterior of different stone types looks in very good order. It appears that new windows have been installed. The entrance porch has impressive new wooden doors (Figure 10). There was a very impressive mosaic found on its floor which will be preserved under glass and is planned to be exhibited in the future to tourists (www.dailysabah.com/history/2017/11/27/mosaics-on-mosque-floor-revealed Published 27 November 2017 in Daily Sabah Newspaper). I am unaware of the status of any other interior renovations.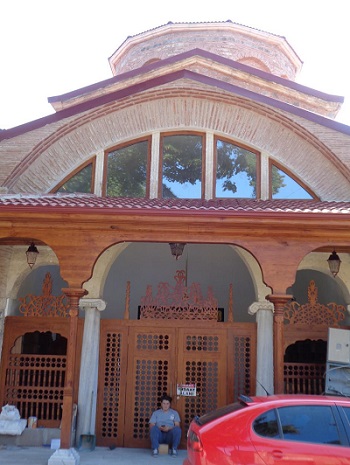 North porch to the former Panayia Chrysokephalos church, 2018
This article is part of a broader study into the churches of Trabzon. To read the entire article click here.