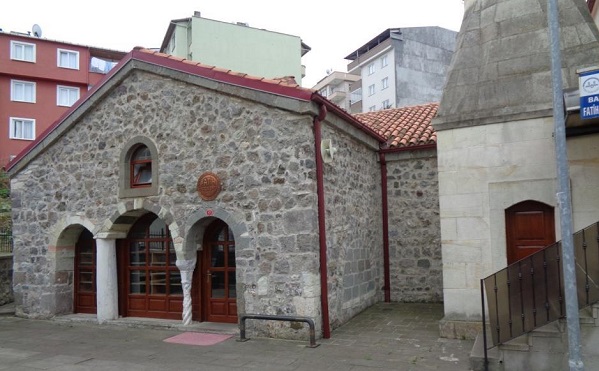 Porch to former St. Akindynos church—now Fatih Küçük mosque, 2018
By Sam Topalidis.
The Saint Akindynos Orthodox church was converted sometime after 1461 to the Küçük Fatih mosque (when Byzantine Trebizond fell to the Ottoman Turks). It is located at relatively high elevation in the Bahçecik district. It was a barrel-vaulted, single-apsed basilica with a north porch. The three periods of building (excluding the Moslem work) are evident: a simple nave (probably no later than the 12th century); a high pentagonal apse replacing an earlier apse and a triple-arched north porch (both which can be dated at the time of the Komnenos Empire of Trebizond) and signs of what may be a lost west porch.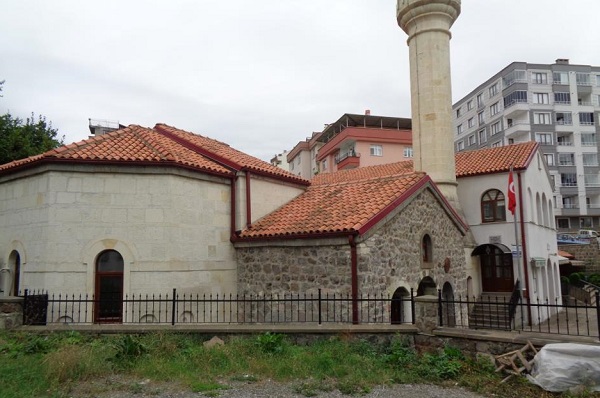 Former St Akindynos church—now Fatih Küçük mosque, 2018
The cornice of local grey stone which runs right around the whole church is a Moslem repair, and both windows in the south wall of the nave are of the Moslem period. The exterior is faced with rectangular blocks of the same yellow stone with which St Sophia was faced (probably from the Unye quarry to the west on the Black Sea). The stones on the north side have turned grey due to weathering (Winfield and Wainwright 1962; Bryer and Winfield 1985).
Read more about the status of churches in Trabzon here