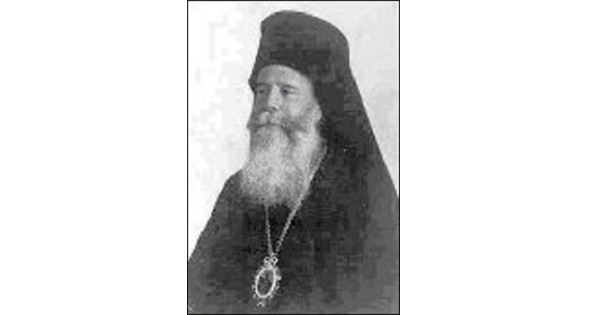 Charilaos 'Chrysanthos' Phillipidis (1881-1949) was the last Metropolitan of Trebizond (1913-1923). He was also the Archbishop of Athens (1938-1941), a theologian, religious hierarch and an academic.
He was born Charilaos Phillipidis near Komotini in western Thrace (at the time under Ottoman rule, but today part of Greece). He studied at the Theological School of Halki (1897-1903) and was ordained as an archdeacon before working at the Diocese of Trebizond (today Trabzon) in Pontus. He then traveled to Switzerland and Germany (1907-1911) to further his studies. Upon his return, he was appointed registrar at the Hagia Sophia church in Constantinople and also editor in chief of the periodical Ecclesiastical Truth. In 1913 he was ordained as Metropolitan of Trebizond.
During WW1, in April 1916, on the eve of the Russian occupation of Trabzon, the Turkish provincial governor abandoned the town and entrusted its administration to Metropolitan Chrysanthos. During this time, he was praised for his courteous attitude towards Turks. In May 1919, during the Paris Peace Conference, Chrysanthos met with US President Woodrow Wilson and presented the case for an autonomous Republic of Pontus. In 1921 he was sentenced to death in absentia by the Courts of Independence which were set up by the Kemalist Nationalists. He fled Turkey in 1922 and arrived in Greece. Between the years 1926-1931 he was sent on a number of religious missions including Albania, Mount Athos, Serbia, Romania, Poland and Syria. In December 1938 he was appointed as the Archbishop of Athens.
He founded the periodical The Comnenes which circulated in Trebizond from 1916-1917 and in 1928 became a founding member of the periodical Pontian Archives (Gr: Archeion Pontou). He was also the president of the Committee of Pontian Studies (Gr: Epitropi Pontiakon Meleton)
He died in Athens in 1949.