Rehan Nishanian  |  On May 29, the 564th anniversary of the conquest of Istanbul will be celebrated in Turkey with pride and fanfare, while others will remember the same historical event with sadness.
A Greek-Canadian co-worker of mine once said the following about May 29th: "We never forget this day," with an air of lingering grief. On May 29, 1453 when Istanbul was "embraced by Islam," as is often repeated in celebrations, thousands of true Konstantinopolitans had parted from their city for good. While the fallen Ottoman fighters are considered martyrs, thousands of others also died including the last Byzantine emperor Konstantine Paleologos. Many Bolis residents had to immigrate to Italy, and those who stayed behind, bid farewell to their "thousand year old civilization," as well as their Hagia Sophia.
While respects are paid to Sultan Mehmed, the Conqueror, at his tomb, graveless Konstantine Paleologos has been remembered for centuries in laments and songs. Well-known author Nikos Kazantzakis, born in Crete in 1883, when the latter was still part of the Ottoman Empire, wrote a play titled "Konstantinos o Paleologos" in the 1940's. His friend, famous Greek composer Manolis Kalomiris, who was born in 1883 in Izmir and studied in Istanbul, composed an opera by the same name, using Kazantzakis's play as its libretto. This three act tragic musical was first staged in Athens in 1962. The play has been translated into German and Spanish, but not yet into Turkish.
An Armenian priest, Abraham Anguratsi (from Ankara), also composed a lament on the fall of the capital. In this touching and unembellished poem, he claims to be an eyewitness to the fall of Konstantinopolis and describes the war in detail. He complains about the lack of unity between the Greek, Frankish and Latin inhabitants of the city; he also points out that the loot from Bolis was transported not only to Edirne and Bursa, but also surfaced in his hometown, Ankara. The last few of his 385 verses are as follows:
I, Abraham, who is full of sins
Composed this lament with great sadness
Because I had seen Konstantinopolis
In its good days.
I had stayed there for three months
And had prayed in front of the blessed relics.
Abraham wrote that Sultan Mehmed rejoiced when he entered the great cathedral, because he had reached his goal. Obviously, joy and grief have survived many centuries until our time. However, Sultan Mehmed did something that may seem novel in our time: he asked Patriarch Gennadius Skolarius, whom he had appointed patriarch shortly after the conquest, to write for him an exposition on Christianity. The latter, a great scholar of philosophy and religion, wrote twelve articles explaining his faith, which were then translated into Turkish by Ahmed, the Kadi (judge) of Berrhoa (Veria in northern Greece, which had been conquered by the Ottomans in 1430.) Gennadius's expositions were published several times in Greek and Latin, but only the 1584 edition contains Ahmed's Turkish translation written in Latin alphabet. It is easy to read with today's Turkish, but impossible to understand.
Was inter-religious dialogue possible in the wake of the conquest, between the conqueror and the conquered? Is it even possible today? From United Nations programs, to Pope Francis, many people who work on inter-religious dialogue today claim that all religions are based on peace, and turn a blind eye on wars of conquest in order to build peace. However, to continue to celebrate the conquest of Istanbul with great joy and pride, ignoring the grief, opens a gaping hole in this beautiful fiction.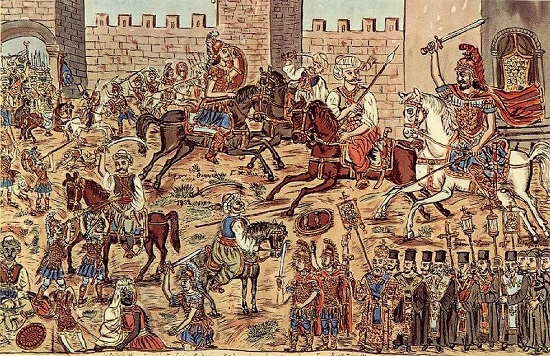 Konstantine Paleologos in battle, 1453. By Theofilos Hatzimichail.