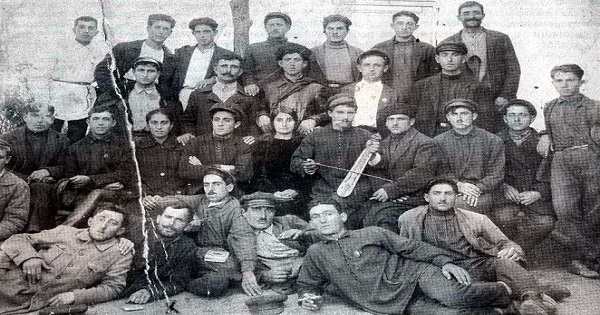 Pontic Greeks from the village of Vityazevo in southern Russia in 1930. Not long after this photo was taken, half of the Greeks of Vityazevo went missing, assumed dead during Stalin's purges.
Vityazevo is a town located along the eastern coastline of the Black Sea in Southern Russia. It became a settlement for Greeks who fled the shores of Ottoman Turkey and the northeastern region of Pontus during the 19th century. The town is sometimes referred to as Little Athens due to the Greek styled buildings of the town and the Greek language which is spoken in the streets. According to one source, the town has a population of 6,500 of whom 60% are Pontic Greeks, some originating from Ünye (Gr: Οινόη) in Pontus.
Today, Vityazevo has its very own tourist resort which is a very popular place for vacations.  At Vityazevo you'll find a swimming beach along the Vityazevsky Liman as well as the Olympia Aquapark. A popular place for tourists to walk is the Paraliya. You will also find the Orthodox church of Saint George and a memorial with the names of the victims of Stalin's Purges.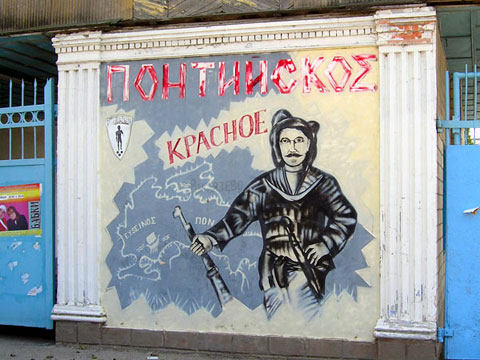 A Pontic Greek emblem adorns the Vityazevo Winery which is owned by Valery Aslanov. Most of the workers at the winery are of Pontic Greek descent. Source: Vityazova Winery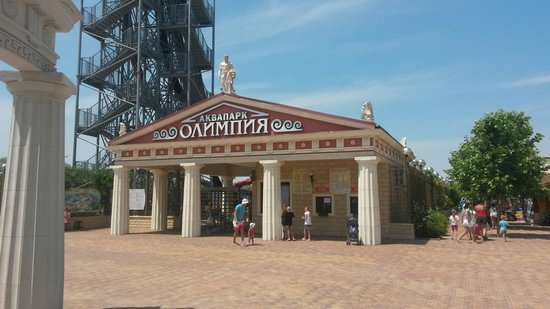 Olympia Aquapark, Vityazevo.