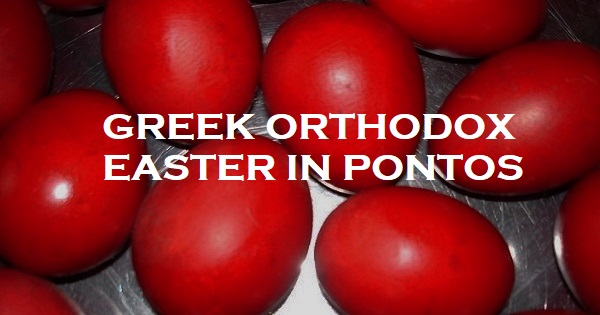 By Sam Topalidis, Pontic author (2016)
Introduction
Sadly, for those of us who are not proficient readers of Greek, there is a lack of information in English on Greek Orthodox Easter celebrations in Pontos (northeastern corner of Anatolia adjacent the Black Sea, see Figure 1) prior to 1923 and after 1923 in Greece and elsewhere where Pontic Greeks reside.  This paper collates the little information available in English on this topic under their different sources (Note 1). 
An important point to stress is that in Anatolia (and within Pontos), Christians and Muslims shared in each other's celebrations and at key times in the year they would visit each other's places of worship.  This was an essential part of maintaining social cohesion in communities.  Despite their adherence to religion, superstitions prevailed and christians and muslims alike revered each other's religious saints if they were able to gain protection from misfortune and miracle cures (Doumanis (2013).  (See Note 2.)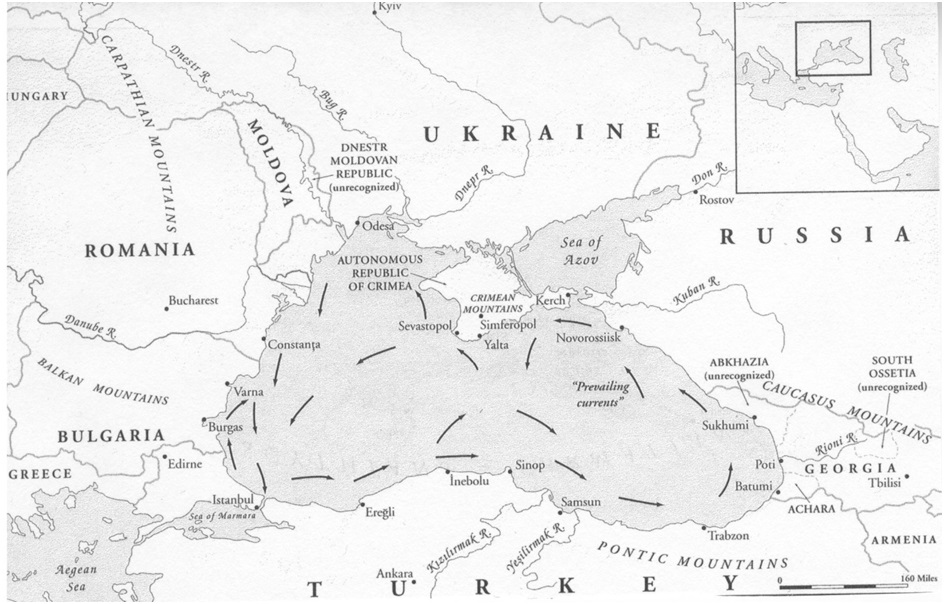 Figure 1. Pontos - northeastern Turkey, (King 2004, p. xvii)
Papadopoulos (1983)
Easter was more revered than Christmas.  This view was based on the responses of the Pontic Greeks who Papadopoulos (1983) interviewed and the number of articles he found written about celebrating Easter compared to those written about Christmas in the journals Archeion Pontou [Archives of Pontos] and Pontiaki Estia [Pontic Hearth] (Note 3). 
Those Pontic Greeks who were abroad or away attending schools would return home to celebrate Easter.  Fasting began on the first day of Lent which in the Greek Orthodox church, begins on Clean Monday and lasts 40 days until the evening preceding Palm Sunday, a week before Easter Sunday (Note 4.)  After three days of strict fasting, Pontic Greeks went to church and stopped fasting on that day.  This Pontic Greek tradition was called 'Aethodorizo'.  During Lent, special fasting took place on Wednesdays and Fridays. 
Children were told they were being watched over by the 'koukara', a boiled potato or an onion in which seven feathers had been stuck and which was hung from the ceiling.  They were lectured that something bad would happen to them if they ate anything they shouldn't eat during Lent.  The 'koukara' was also used as a calendar.  One feather was pulled out as every week passed during Easter.  On Palm Sunday children aged between five and 15 years would go to homes chanting while holding a small branch of palm which they had received during the church service.  Pontic Greeks gave these children, eggs, 'kerkele' (koulouria – Greek biscuits), candies, money and other items. 
During the holy week of Easter in Pontos women would clean their homes and women would also clean the local church.  On Good Friday, young ladies dressed in mourning clothes would go to church and decorate the Epitaph with wild flowers.  New dresses were also made to be worn on Easter Sunday.  At Easter Sunday's church service, when the priest said 'Hristos Anesti' (Christ has risen), there was much rejoicing and rifles/shot-guns were discharged.  The celebration began at the church with the playing of kemenche (Pontic lyra).  In many villages the priest would begin the first dance of this celebration which lasted for a long time and would continue in private homes.  Hard-boiled eggs dyed with different colours (red was the most popular colour) were used by people to 'egg-tap' (tsougrisma) with each other.  The person whose egg remained uncracked would receive those eggs which had cracked.  After the church service, when the parishioners went home, they held lighted Easter candles. 
The traditional Greek roasting of a lamb on a spit was not performed by Pontic Greeks.  With the end of fasting, meat or fish was cooked as the main course for Easter meals.  The meals cooked with meat did not necessarily consist of lamb. 
Megas (1958)
The Wednesday before Good Friday is devoted chiefly by christian Greeks to the anointment of the faithful.  After the church service, the priest anointed each parishioner with holy oil on the forehead, chin, cheeks and hands.  In some places, as in Pontos, all objects which had been smeared with holy oil were believed to acquire a mystic power.  At Kotyora (Ordu) in Pontos, on the Black Sea (between Samsun and Trabzon, see Figure 1), the priest would go round the villages on the Wednesday of Holy Week holding private anointment ceremonies in Greek Orthodox christian houses.  The Pontic Greek families always had a tray of raw eggs, flour and salt ready for him.  These were anointed by the priest and taken to church on Maundy Thursday (the day before Good Friday) with a number of red-dyed Easter eggs in small baskets covered with a piece of cloth.
On Maundy Thursday in Sinope in Pontos (Figure 1), it was customary to dye as many hard-boiled eggs as there were people in the house, with an additional egg for the Virgin Mary.  In the evening, the eggs were placed in a small box and taken to church to be blessed.  The box was then blessed either under the alter or behind the Bishop's throne, where it remained until the Resurrection.  
Respondents from Rizou village, northern Greece (1997)
Lent was called 'Sarakosti'(40 day fast).  In Pontos, starting the night before Clean Monday, children kissed the hands of their grandparents, their parents, and embraced and kissed their brothers and sisters.  On Clean Monday, the devout went to church, performed Holy Communion and from there whoever could fast for the entire 40 days did so.  On the first three days of Lent, they would neither eat nor drink anything, not even water. (See Note 5 and http://dim-rizou.pel.sch.gr/ergasies/mnhmes/6.htm#7).
Every Friday people attended the church service.  On the last Saturday before Easter (named St. Lazarus) women made 'kerkele' (koulouria) and on the following day (Palm Sunday) they gave them to children along with white eggs while they sang psalms. 
During Holy Week no (farm) work was performed.  Every day during the week people would attend church.  On Maundy Thursday they baked bread and made tsourekia (Greek Easter sweet bread with one or more dyed hard-boiled eggs) and dyed their hard-boiled eggs.  At night they would attend church for the Gospel service (Dodeka Evanggelia).  They took 12 objects with them to church so they would be blessed for good luck throughout the year.  On Good Friday, they attended church and passed under the Epitaph, performed Holy Communion and then at 3 am consumed soup.  On Easter Saturday they sacrificed lambs, chickens and roosters and began preparing for Easter Sunday.  Parents also brought presents for the children. 
On Easter Sunday, people stayed up all night.  After 2 am, at the first sound of the roosters crowing, the church bell would be rung.  (In Anatolia, church bells were allowed to be rung after 1856, but only in villages where the majority of the people were christians (Fotiadis 2001).)  The christians in the village would go to church for the liturgy which commenced after 4 am.  Some people stayed until the end whilst others went home earlier.  In the morning, immediately after leaving the church service people would go home and set a table with food which they would consume until midday.  
Before midday, the Greek christians in the village left their houses to partake in 'egg-tapping' with their fellow villagers.  In groups of three or four, the older folk would visit each house in the village and accompanied by a kemenche would sing, dance, 'egg-tap' their painted eggs with others and offer the householder an alcoholic drink.  At midday, people would again attend church.  After the church service the village folk would gather in the village square or in front of the school yard where the tulum (a bagpipe with a double chanter and no drone pipe) would be played and people would dance all night to celebrate the end of fasting (Note 6).  The children would play games like rolling their red hard-boiled eggs down some sloping ground.  The child who owned the egg which did not crack would take the other eggs which had cracked.
Avdikos (2014)
Today, a Pontic Greek tradition maintained by some descendants in Greece is the first Sunday after Easter (St Thomas Sunday) people proceed to the cemetery and then eat on the graves of their loved ones as a way of honouring their dead (see http://en.protothema.gr/pontic-graveyard-picnic-for-st-thomas-photos-video/).  
Avdikos (2014) also identified this custom with Pontic Greeks living in Russia/Caucasus in the early to mid-20th century, even during the Stalin era.  Pontic Greeks dedicated a day during Easter, which they called 'sa tafia', to visit their ancestors' graves where they had a feast of food and wine.  This was a very important part of Easter, a tradition they brought from Pontos.  
Notes
Note 1: This current work has been disadvantaged by the unavailability of an English translation of the work by Varvounis and Triperina (2015).  For those able to read Greek, I recommend this reference. 
Note 2: Doumanis (2013) translated an interview with Sofia Lapazidou, who came from the village of Zilmera in Pontos recorded by Kentrou Mikrasiatikon Spoudon (KMS) [Centre for Asia Minor Studies] in Athens.  Part of her translated interview stated:
    We had no complaints about the Turks.  We never heard of them harassing our women, or to say a bad word to us. … We worked and celebrated events together … We invited them into our churches, where they would light a candle. 
    I have also read Sofia Lapazidou's interview (recorded in 1959) when I visited KMS, but I could not translate all of her interview.  So I am very grateful for Doumanis (2013) translation.  Zilmera was the village of my maternal grandparents located less than 10 km south southwest of Trabzon (Figure 1).  There was one christian church in the village whose name is unknown. 
Note 3: Two of Papadopoulos (1983) references on Greek Orthodox Easter customs in Pontos were Fotiades (1978) and Tanimanides (1983).  His other references are unknown. 
Note 4: Eating meat, eggs, dairy products, oil and wine is traditionally forbidden to Orthodox christians throughout Lent.  During the holy week of Easter there was different fasting.  Andreadis (2007) adds that the Greek Orthodox tradition was that no weddings were performed during Lent. 
Note 5: In 1997 the 6th grade Primary school students in the village of Rizou, 15 km northwest of Edessa in northern Greece recorded the recollections of their elderly residents who came from Pontos, including their memories of Easter traditions.  It is unknown what areas in Pontos these recollections describe.  
Note 6: The tulum would be a musical instrument of choice in a large gathering as it was louder than a kemenche. 
 
Acknowledgements
The author warmly thanks his ever-inquisitive friend Russell McCaskie for his comments to a draft of this article.
References
Andreadis, G 2007, 'Faith unseen: the crypto-christians of Pontus, part 1', Road to Emmaus, vol. viii, no. 4, pp. 2–53. 
Avdikos, EG 2014, 'From being Romaioi to becoming Greek: "Russopontian" stories of their own long journey', in Narratives Across Space and Time: Transmissions and Adaptations, (Proceedings of the 15th Congress of the International Society for Folk Narrative Research, June 21–7, 2009 Athens), vol. A, pp. 37–54, Athens. 
Doumanis, N 2013, Before the nation: muslim-christian coexistence and its destruction in late-Ottoman Anatolia, Oxford University Press, Oxford, UK. 
Fotiades G 1978, 'About the Easter customs of Pontos' (in Greek), Pontiaki Estia, vol. 21, pp. 174–6. 
Fotiadis, K 2001, The forced Islamization in Asia Minor and the cryptochristians of the Pontos (in Greek), Kiriakidis Bros, Thessaloniki, Greece. 
King, C 2004, The Black Sea: a history, Oxford University Press, Oxford, UK.
Megas, GA 1958, Greek calendar customs, Press and Information Department of the Greek Prime Minister's Office, Athens. 
Papadopoulos, S 1983, Events and cultural characteristics regarding the Pontian-Greeks and their descendants, PhD thesis, School of Education, Health, Nursing and Arts Professions, New York University, New York. 
Tanimanides, PG 1983, 'Easter customs' (in Greek), Pontiaki Estia, vol. 49, pp. 88–90. 
Varvounis, MG & Triperina, M 2015, Customs and rituals of the year in folk tradition of Pontos (middle 19th century – 1922), (in Greek), Archeion Pontou, [Archives of Pontos], supplement no. 35, Epitropi Pontiakon Meleton [Committee for Pontic Studies], Athens.