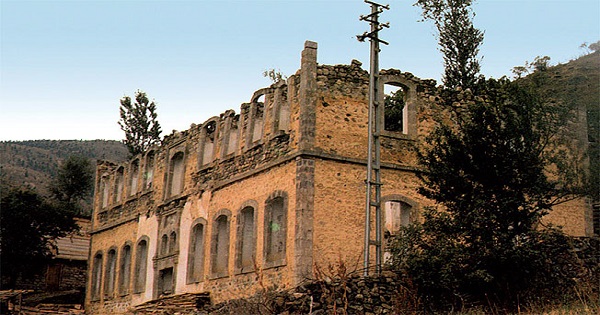 The Argyroupolis Greek Tuition Center also known as Frontistirion Argyroupolis, is located in Argyroupolis (Gümüşhane) in current day Turkey.  It was founded in 1723, 40 years after the Trapezunta Tuition Center formed, by Archbishop of Chaldea Ignatios Skrivas I. Its first name was the School of Greek Studies (Scholi Ellinikon Mathimaton) and operated from the home of the Kaloyeranton family. It wasn't until 1854 and under the guidance of principal George Kiriakidis-Papadopoulos that the school became a large teaching institution.
Just prior to Kiriakidis' arrival, the school was called the Greek School of Chaldea, however Kiriakidis changed the title to include the word frontistirion or 'tuition center'. It thus became the Greek Tuition Center of Argyroupolis (Ellinikon Frontistirion Argyroupolis). This placed it on par with the larger Trapezunta Tuition Center. Both schools shared the same curriculum.
By the time George Kiriakidis took over as principal in 1854, the school had been through many hardships and closed its doors 3 times due to lack of funds. When Kiriakidis came to the helm, he made many changes including the implementation of regulated procedures, a timetable, the purchase of new books, and a committee was formed to oversee school finances among others. This all led to an overall increase in student numbers.
Kiriakidis' reforms were funded by the Metropolitan of Chaldea, Gervasios Soumelidis who sold some of the rich ornaments of the five churches of the region (Saint John, Saint George, Saint Theodore, the Church of the Holy Cross and Panagias). These funds secured the long term future of the school. Kiriakidis also founded a Girls School in Argyroupolis. Many of the women who graduated from this school excelled in society.
In 1857-58, the Argyroupolis Tuition Center had 30 secondary and 235 primary school students.   Numbers increased throughout the remainder of the 19th century and into the 20th century. In 1894 and while under the leadership of principal Gervasios Sarasitis, the school became a teaching institution for teachers of the region of Chaldea. Aside from Kiriakidis who himself taught at the school, teachers included Gervasios Orologas, Gervasios Sarasitis. George Efthivoulis, Thomas Pavlidis, and others.  In 1898-99 there were 12 teachers at the center who taught 300 students. During this time the tuition center included a prep grade, 4 primary school grades and 3 secondary school grades.
Following the genocide and exodus of the Greeks of Argyroupolis, many of the survivors fled to Naousa in Greece and took books and other reading material from the tuition center with them.
The school suffered at the start of WW1 and closed in 1922.  While the tuition center is in ruins, the girls' school exists as the residence of a Muslim family.
References:
- The Encyclopedia of Pontian Hellenism, Malliaris Pedia
- Η Ελληνική Παιδεία στον Πόντο, Σωφρόνης Χατζησαββίδης. 
- santeos.blogspot.com
- kanonidis.gr