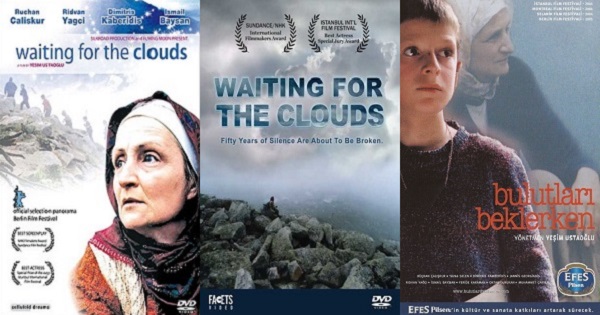 Waiting for the Clouds tells the tragic story of Ayse who lives with her older and ailing sister Selma in a small coast town in the Black Sea region. Ayse never married and has dedicated her life to her sister Selma. Their years of co-habitation have created an intense bond. Ayse must now face the harsh reality that she will soon be alone. The mystery of Ayse's tragic past will be divulged through the curious eyes of a charming eight year old boy Mehmet, who shares Ayse's profound loss at the death of Selma.
Ayse's real identity is that of Eleni, the daughter of one of the evacuated Greek families. When she was 10 years old, Eleni was forced to suffer a seemingly endless march southward through ice and snow with her family. After cold and starvation killed her mother and sister, Eleni bravely pushed on to save herself and "Niko", her six year old brother.
Near death themselves upon their arrival at the outskirts of a faraway village, Eleni and Niko are taken in by a Turkish family. The trauma of young Eleni's brutal experience subsides through the loving bond she establishes with her sister Selma.
For some 50 years, Ayse has kept silent about her true identity to protect her status as Selma's sister. Now that her beloved Selma has passed away, Ayse longs for the forgiveness of her long lost brother Niko.
Through Ayse's inner journey, Waiting for the Clouds raises questions about "who we are " and "where we belong", as it digs deeper into the intrinsic universal human feelings of love, guilt, fear and sharing.