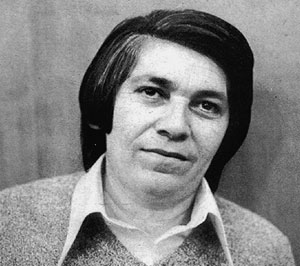 Chrysanthos Theodoridis (1934-2005), better known simply as Chrysanthos, is the most well known singer and song writer of Pontic Greek music. He was referred to as 'the nightingale of Pontus' owing to his powerful and beautiful voice. He was born in Oinoi, Kozani, Greece in 1934. His parents were Pontic Greek refugees from Pezirkian Kiatsit in the Kars region of north eastern Turkey.
After completing his primary schooling he attended the Valtadoro High School in Kozani. In 1949 his father was murdered by a gang which led to his family moving to Drapetsona in Piraeus, Athens.  There he enrolled in the Ionideio School, a well known school in Piraeus. It was around this time that he began contributing to cultural programs on an Athens radio station. It was also around this time that he was learning the art of Pontic Greek music by established musicians and teachers of Pontic music such as Nikos Papavramidis, and theatrical performers such as Nikos Spanidis.

In 1954 at the age of 20, Chrysanthos recorded his first album with Pontic lyra player Nikos Lazaridis. After completing his national military service in 1959, he moved to Salonica with a view to continuing his musical career. It was here that he began his association with the 'Patriarch' of the Pontic lyra, Gogos Petridis.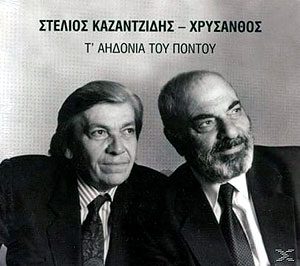 Both were blessed with an incredible talent - Chrysanthos with a unique, high pitched voice of great range - and Petridis a rare proficiency with the Pontic lyra. The musical duo performed and recorded together and were the first to bring Pontic music to Greek nightclubs. Chrysanthos also contributed to the cultural center Efxinos Leschi Salonica and later the Faron Pontion Salonica.       
So unique was his voice that interest grew from other quarters of the Greek music scene. Chrysanthos was soon receiving invitations to perform entekhno (a form of rhythmic and melodic Greek orchestral music) to a wider Greek audience and in 1975 decided to move to Athens to explore this path. He appeared with Nikos Xilouris, Mariza Koch and composer Christodoulo Halari at the Aposperida boite. In 1976 he appeared in performances with Halari and Xilouris throughout all of Greece

In 1979-80 Chrysanthos appeared with Halari at the Lykavito (a well known open-air amphitheater in Athens) in performances of Perses, Romanos o Melodos and others. In 1980 he took part in the Festival d'Avignon in France and performed in three other cities in southern France. He performed in many other countries including Germany, Australia, United States, Canada, Switzerland and Sweden.

Chrysanthos released over 30 albums and CD's throughout his 50 year music career and wrote the lyrics to many of his songs.  One of the last CD's he released was with famous Greek singer Stelios Kazantzidis who was also of Pontic Greek descent.     

In 1996, after a 20 year career in Athens, Chrysanthos returned to northern Greece and settled in Salonica. He died in Polichni a district of Salonica in 2005 aged 71. His funeral was attended by thousands of people throughout Greece.

Recordings

Pontic Music

    1973-Τα τραγούδια του πόντου
    1975-Τα τραγούδια του πόντου Νο2
    1978-Επιμένω στην παράδοση
    1978-Ποντιακή Παράδοση
    1983-Θεέμ' ενέσπαλες τ'ανθρώπς'
    1984-Ο ΧΡΥΣΑΝΘΟΣ τραγουδά Ματσούκα
    1989-Στον Ορφέα της λύρας ΓΩΓΟ
    1991-Χρυσή Παράδοση
    1993-Τ'αηδόνια του Πόντου
    2000-Μια βραδιά στο Μίθριο
    2003-Η ιστορία συνεχίζεται

Entekhno

    Ακολουθία
    Πάθη απόκρυφα
    Δροσουλίτες
    Μεγαλέξανδρος
    Τα παιδικά