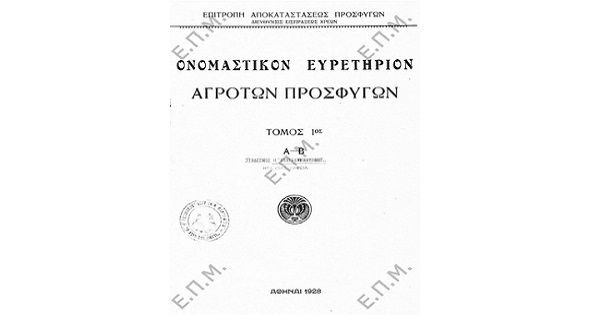 The following directories were published in Athens in 1928 by the Refugee Resettlement Commission (Epitropi Apokatastaseos Prosfygon) and contain a list of Ottoman Greek refugees that were expelled from their homelands in the former Ottoman Empire (today Turkey) and settled in Greece. The directories are classed as 'rural'. We believe this is because they were settled in rural areas in Greece.
Note: The lists include Greeks from all regions of the former Ottoman Empire including Asia Minor and Eastern Thrace.

You can either view the directories online, or you can download them. Since the directories are quite large, we are providing links (see below) so you can view them online. First, find the directory based on the first letter of your ancestor's surname. In the directory, you will see the refugee's name, which region they came from, and a number. To find out where they were settled, you will need this number. Then, go to the first catalogue below, in green titled "Catalogue of refugee numbers based on region", and you will need to search for this number to see which region they were settled in.
Catalogue of refugee numbers based on region
Refugee names from Aβ-Αν
Refugee names from Aν-Aψ
Refugee names starting with B
Refugee names from Γα-Για
Refugee names from Για-Γκα
Refugee names from Γκα-Γω
Refugee names starting with Δ
Refugee names from Ε-Ζ-Η
Refugee names from Θ-Ι
Refugee names from Καα-Καρ
Refugee names from Καρ-Κεσ
Refugee names from Κεσ-Κου
Refugee names from Κου-Κω
Refugee names starting with Λ
Refugee names from Μα-Μι
Refugee names from Μι-Μω
Refugee names from Ν-Ξ-Ο
Refugee names from Πα-Παπ
Refugee names from Παπ-Πατ
Refugee names from Πατ-Πωσ
Refugee names starting with Ρ
Refugee names from Σα-Σι
Refugee names from Σι-Σω
Refugee names from Ταα-Τοπ
Refugee names from Τοπ-Τσα
Refugee names from Τσα-Τω
Refugee names from Υ-Φ
Refugee names from Χαβ-Χατ
Refugee names from Χατ-Χω
Refugee names from Ψ-Ω
Compilation credit: Gregory Masmanidis (www.mas.gr)
Compilation source or to download directories
Released by www.epm.gr