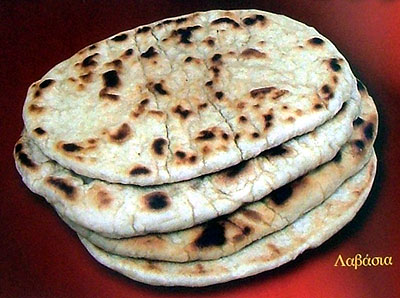 Lavash or Lavashin, (referred to in plural as Lavashia), is a wide, flat and thinly made type of bread which was widely consumed in Pontus and is still popular among Pontic Greeks today. It was usually made in an oven at the same time as making bread, but also made on a satz'. The delicacy was often served during the wake of a funeral.
The information, photo and recipe from this article were taken from the recipe book titled Pontian Dishes (Ποντίων Εδέσματα) and published with the author's consent.
Recipe:
1 kg flour
  Salt
  Water
Directions
Place the flour in a cooking basin and add an appropriate amount of salt and water in order to make a dough which - whilst kneading - is similar in consistency to the dough made for bread. Then cut the dough and make them into small balls. First open them out with a rolling pin, then further with your hands, moulding them into thick round discs. Cook them on a satz or a non-stick frying pan. Immediately serve.
The satz' (or satzin) is the Pontian cooking pan. It's made of iron and is placed on top of an open fire. It's used to cook flat layers of dough.
The Pontian rolling pin is called a Hlaou.
From the book...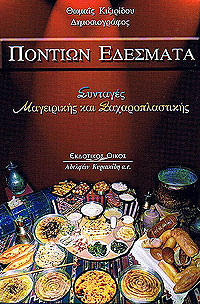 ΠΟΝΤΙΩΝ ΕΔΕΣΜΑΤΑ
ΣΥΝΤΑΓΕΣ ΜΑΓΕΙΡΙΚΗΣ ΚΑΙ ΖΑΧΑΡΟΠΛΑΣΤΙΚΗΣ
ΘΩΜΑΪΣ ΚΙΖΙΡΙΔΟΥ
ΕΚΔΟΤΙΚΟΣ ΟΙΚΟΣ
ΑΔΕΛΦΩΝ ΚΥΡΙΑΚΙΔΗ
---
ΛΑΒΑΣΙΑ

* 1 κιλό αλεύρι
* Αλάτι
* Νερό
Τοποθετούμε τ'αλεύρι σε μια λεκάνη, προσθέτουμε ανάλογο αλάτι και τόσο νερό ώστε ζυμώνοντας να παρασκευάσουμε μια σφιχτή ζύμη, σαν του ψωμιού. Στη συνέχεια, κόβουμε τη ζύμη σε μπαλάκια. Πρώτα τ'ανοίγουμε με τη χλαού κι έπειτα λίγο ακόμη με τα χέρια, πλάθοντάς τα σε παχιά στρογγυλά δισκία. Τα ψήνουμε στο σάτζ' ή σ'αντικολλητικό τηγάνι. Σερβίρουμε αμέσως.
Το σάτζιν ή σάτζ' είναι ένα σιδερένιο θολωτό έλασμα, το οποίο αφού τοποθετηθεί πάνω σε πυροστιά, πάνω σ'αυτό έψηναν φύλλο ζύμης.
Η χλαού ή χλαγού είναι ξένη λέξη και σημαίνει βέργα, με την οποία ανοίγουν φύλλα ζύμης. Είναι ο πλάστης.
Απ΄το βιβλίο...
ΣΥΝΤΑΓΕΣ ΜΑΓΕΙΡΙΚΗΣ ΚΑΙ ΖΑΧΑΡΟΠΛΑΣΤΙΚΗΣ
ΘΩΜΑΪΣ ΚΙΖΙΡΙΔΟΥ
ΕΚΔΟΤΙΚΟΣ ΟΙΚΟΣ
ΑΔΕΛΦΩΝ ΚΥΡΙΑΚΙΔΗ